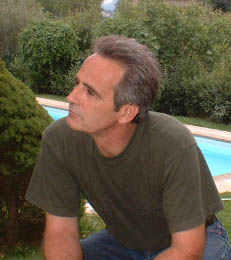 Mirko Bajsic Born in Lepoglava, Croatia in 1956.
He spent his childhood on the little farm of his grandparents, at the age of 15 he left his homeland to follow his mother to Germany.
There he began his behind-glass-painting with oil colours as a self-taught artist , following the Croatian naïve painters' trails from Hlebine, peasant painters who pictured their own simple rural life. Although his art shows many style elements of this school, the artist created his very own contentual and stylish image of the world, influenced by new stimulations.
In fact his periodical vacations in Umbria – Italy, affect his painting so that next to small houses and cottages with thatched roofs of straw the typical umbrien stone-farms appear, the vegetation changes itself into the buckled and fantastic forms of the olive trees.
His paintings tell timeless stories with spontaneity and modesty, with a bright firework of colours.
In the year 1998 he introduced himself to the public with a single exhibition in Munich, since then several single and collective exhibitions have followed in Germany, Croatia and Italy.